Come to the Table, November 18th 5:30 pm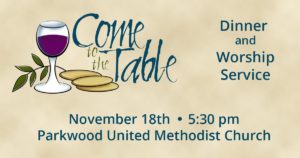 Join us as we gather around the table for food and worship, Saturday November 18th at 5:30 pm.
We will celebrate "Small World" Preschool with this special evening of worship, fellowship and thanksgiving.
The dinner for Come to the Table this month is a Pot Luck meal. Bring a dish or two to share.
We will close the service with communion.