Worship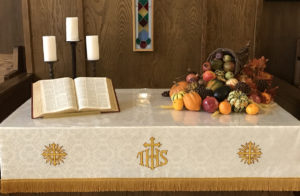 Our Worship at Parkwood UMC is essential to our life in ministry. It is the fuel that keeps us going as Christians sent into the world to share Christ's love. We strive to reach and connect people of all ages and walks of life with our music, liturgy, and sermons. On a typical Sunday morning you will find both contemporary songs and traditional hymns. Our children grow from special kid's bulletins to color featuring scripture from the day, children sermons, and, when we let him, sermons from our pastor featuring familiar comic book characters.
Our worship format is based upon a service called Word & Table. The purpose of this service is to gather everyone in and prepare them to hear the words of scripture spoken aloud and unpacked in sermon. We are given the opportunity to respond to that word with our gifts, our faith, and breaking bread around the table of Holy Communion. The Service of Holy Communion is celebrated on the first Sunday of every month. Join us for rest. Join us to fi nd hope in a chaotic world. Join us to be connected to others wrestling with God's call upon our lives. Join us for worship at Parkwood UMC. The service begins at 11am, but please join us before at 10:30 am for coffee, treats, and fellowship.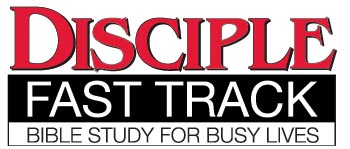 Join Parkwood United Methodist Church for our Fall Bible Study, starting Monday, September 25.
Disciple Fast Track will be led by Pastor Anita Taylor in the Jacob classroom at ParkwoodUMC.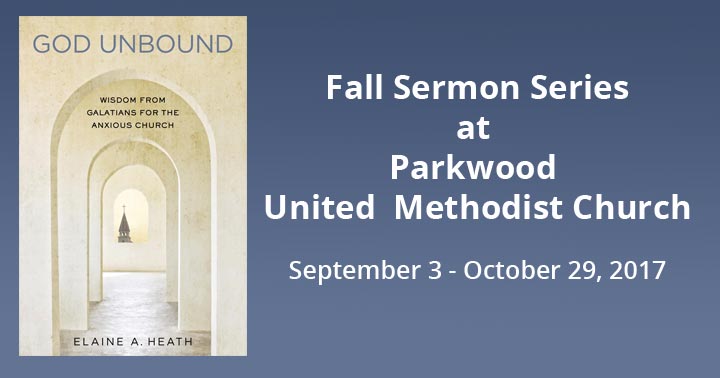 "Christians today wring their hands over the church's declining influence even as they become stuck in defending and protecting its traditions. Is there a way through this dilemma?" (Heath, backcover)
Using Elaine A. Heath's book God Unbound and the Book of Galatians, we will begin to undo our limiting vision of God, to truly become aware that God is so much more than we can ever imagine. Each week, our sermon will follow a chapter from Heath's book. Join us as we begin to understand the tradition behind our faith and how the church is called to step out in ministry.
Sept. 3 "A Unexpected Problem with Paul"
Sept. 10 "Loving the Tradition behind the Tradition"
Sept. 17 "Opening Ourselves to God"
Sept. 24 "Authority, Discernment, Call"
Oct. 1 "When Systems Change"
Oct. 8 "Responding to Anxiety in the System"
Oct. 15 "Guided by the Spirit"
Oct. 22 "Fulfilling the Law of Christ"
Oct. 29 "A Letter to the Church"